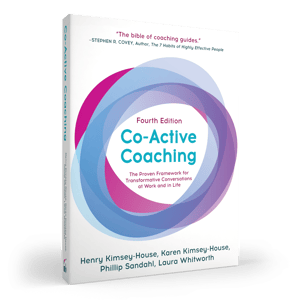 Co-Active Coaching: A powerful alliance designed to forward and enhance the lifelong process of human learning, effectiveness and fulfillment.
Welcome to the Co-Active Online Toolkit. On this page, you'll find an ever growing list of forms, checklists, exercises and other tools for you to download and use with your coaching clients. You are welcome to use these tools in their current form ... or better, modify them to reflect your personal style and approach to coaching.
At CTI, we are always looking for ways to connect our community through technology, support coaches in their development, as well as spread the word about Co-Active Coaching. Thank you for your partnership!
Coaching Resources

Powerful Questions
Homework Inquiries
Wheel of Life Exercise
Blank Wheel
Values Clarification Exercise
Ethical Standards
Life Purpose Exercise
Saboteur Clarification

Client Profile
House of You Visualization Script
House of You Visualization Audio

Strategic & Planning Tools
Strategic Planning Checklist
Action and Planning Log
Goals and Commitments
Daily Habits
Daily Habits Tracking Log
Structures
First Meeting Checklist
Forms & Checklists

Individual Client Discovery Checklist
Coaching Agreement
Personal Information Fact Sheet
Individual Client Interview
Primary Focus
Coaching Preparation Form
Completion Log
Corporate Tools

Corporate Client Discovery Checklist
Corporate Client Profile
Job Performance Wheel
Professional Assessment Wheel
Transformative Coaching in Organizations
The Coach's Agenda (runtime 59:54 minutes)
Shake it Up! (runtime 58:07 minutes)
Standing in the Fire (runtime 59:26 minutes)
Co-Active Coaching Demo Audios

Metaphor, Intuition, Accountability

Intro from Karen Kimsey-House
Runtime: 0:49 minutes
Listen to a coach using these tools
Runtime: 19:23 minutes

Powerful Questions, Articulating, Acknowledgment

Intro from Phil Sandahl
Runtime: 0:55 minutes

Listen to a coach using these tools
Runtime: 18:09 minutes
Powerful Questions, Articulating, Acknowledgment



Summary of key points by Phil Sandahl


Runtime: 1:05 minutes